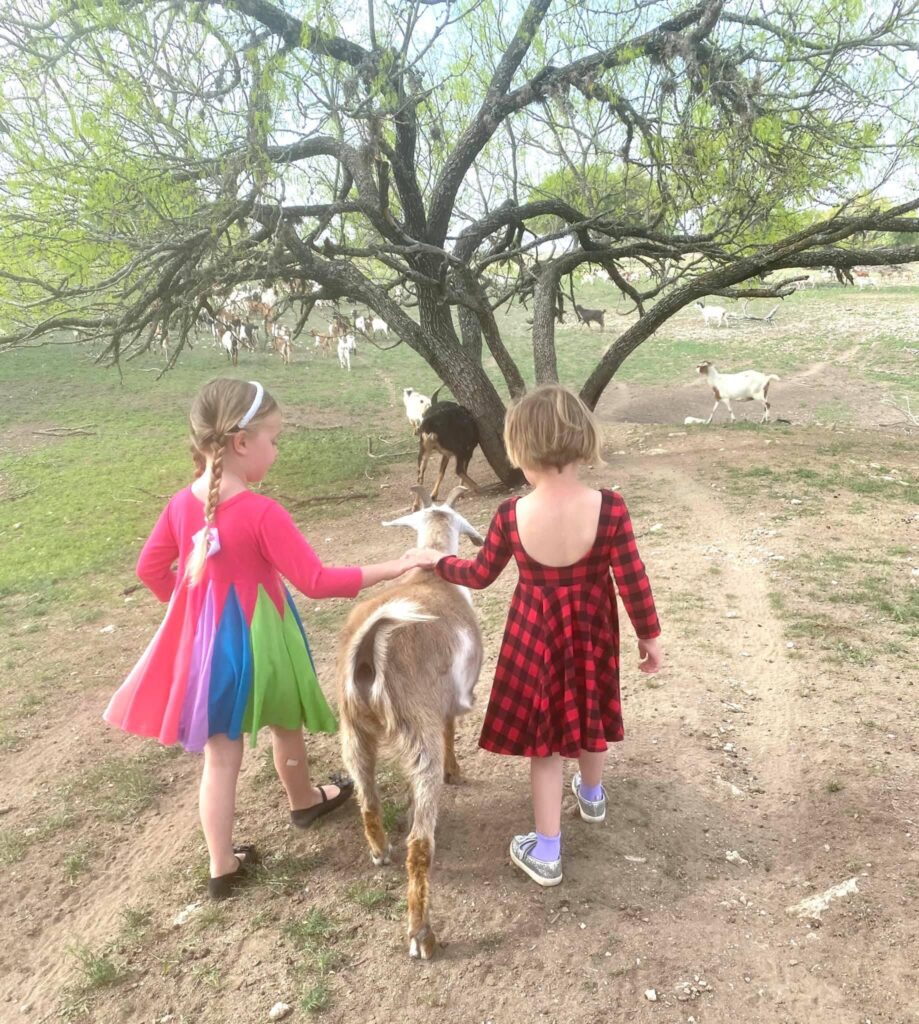 A Place for Spiritual Growth and Renewal ….
Fey Hill Farm was established in 1998 by Aurelia Fey Guthrie and her sister Jonnie O'Marra Watson.
Fey Hill Farm for many years operated primarily as a dairy goat farm. In 2020 when the Covid Pandemic began and social distancing and lock-downs began, we realized that people needed to be able to maintain physical contact with and be allowed to reach out and touch one another. Since the CDC guidelines forbade anyone from coming in close contact with anyone but their household members, people were stressed out as the basic human need for contact was causing mental and spiritual issues. It was at this point, people were invited through an article in the Comfort News, the local paper, to come out a hug a goat and be entertained by goat antics. Since the setting was outdoors and by appointment, the people of Comfort and their friends in surrounding communities were able to have a feeling of normalcy by touching another living creature.
With the passing of Jonnie Watson in 2021, Fey Hill was passed on to her nephew David Guthrie, who realized that although he had done nothing to deserve it, he nevertheless was given the Farm by his mother and aunt because they wanted him to have it.   As a retired Anglican priest, David saw his inheritance as an example of God's Grace, which are blessings and mercy given freely to us. Although we do not deserve God's blessings and mercy, nevertheless out of His unlimited and unconditional love God wants us to have His Grace.
In response to his inheritance, David decided to share the Fey Hill Farm with others as a place to come and grow in faith and by praying and meditating in a peaceful rural setting they may realize more deeply their relationship with God and His Creation.
We are Blessed here at Fey Hill Farm.  This is a truly peaceful, relaxing 50 acres to enjoy nature, let go of stress and focus on Gods blessings.  We are a Spiritual, Event and Education center as well as a working farm and goat lovers. 
We breed and raise Mini Nibian and Nigerian Dwarf goats. Our gentle hand raised goats are always ready to meet and entertain visitors. 
Fey Hill Farm is owned by David & Jane Guthrie and is located in Comfort TX right off of HWY 27 on Hermann Sons Rd.
Contact us
for more information on how we can share our piece of Heaven with you!
___________________________________
Things to take time and rejoice….
Mindfulness … Thankfulness … Spirituality
Harmony … Simplicity
Healing … Peace … Relax